BIS is Cisco Advanced Video Specialized Partner
28-07-2015 15:33
BIS is onlangs benoemd tot Cisco Advanced Video Specialized Partner. De Advanced Video Specialized Partner specialisatie is een mooie aanvulling op het Select Certified Partner certificaat. Een certificaat dat officieel bevestigd dat BIS een erkende aanbieder is van de hoogwaardige Cisco videoconference en Unified Communications oplossingen.
Met de toevoeging van de specialisatie Cisco Advanced Video Specialized Partner is BIS niet alleen erkend aanbieder, maar ook een gedegen gesprekspartner én een organisatie die de kwaliteit van de Cisco oplossingen kan (waar)borgen; zowel tijdens het implementatieproces als daarna.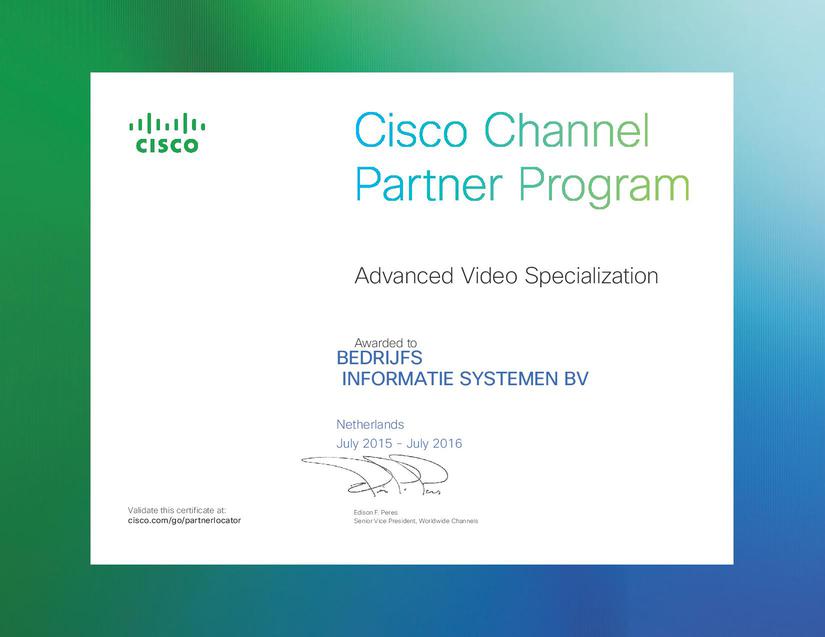 Om deze certificaten en specialisaties toegewezen te krijgen en te behouden moeten onze videoconference specialisten continue intensieve trainingen volgen en specialistische kennis eigen maken.
Het partnerprogramma van Cisco is zeer uitgebreid en kent diverse categorieën. Voor de volledigheid een overzicht van de BIS onderscheidingen.
Certifications:
Specializations:
Advanced Video Specialization
Small and Midsize Business Specialization
Services Reseller:
Other Authorizations:
Registered Partner
GPN Resale Host
ATP - Cisco TelePresence Video Advanced
Wilt u meer informatie over de
videoconference mogelijkheden
met Cisco.
Bel BIS 0180 – 486.777 of vul het
contactformulier
in.